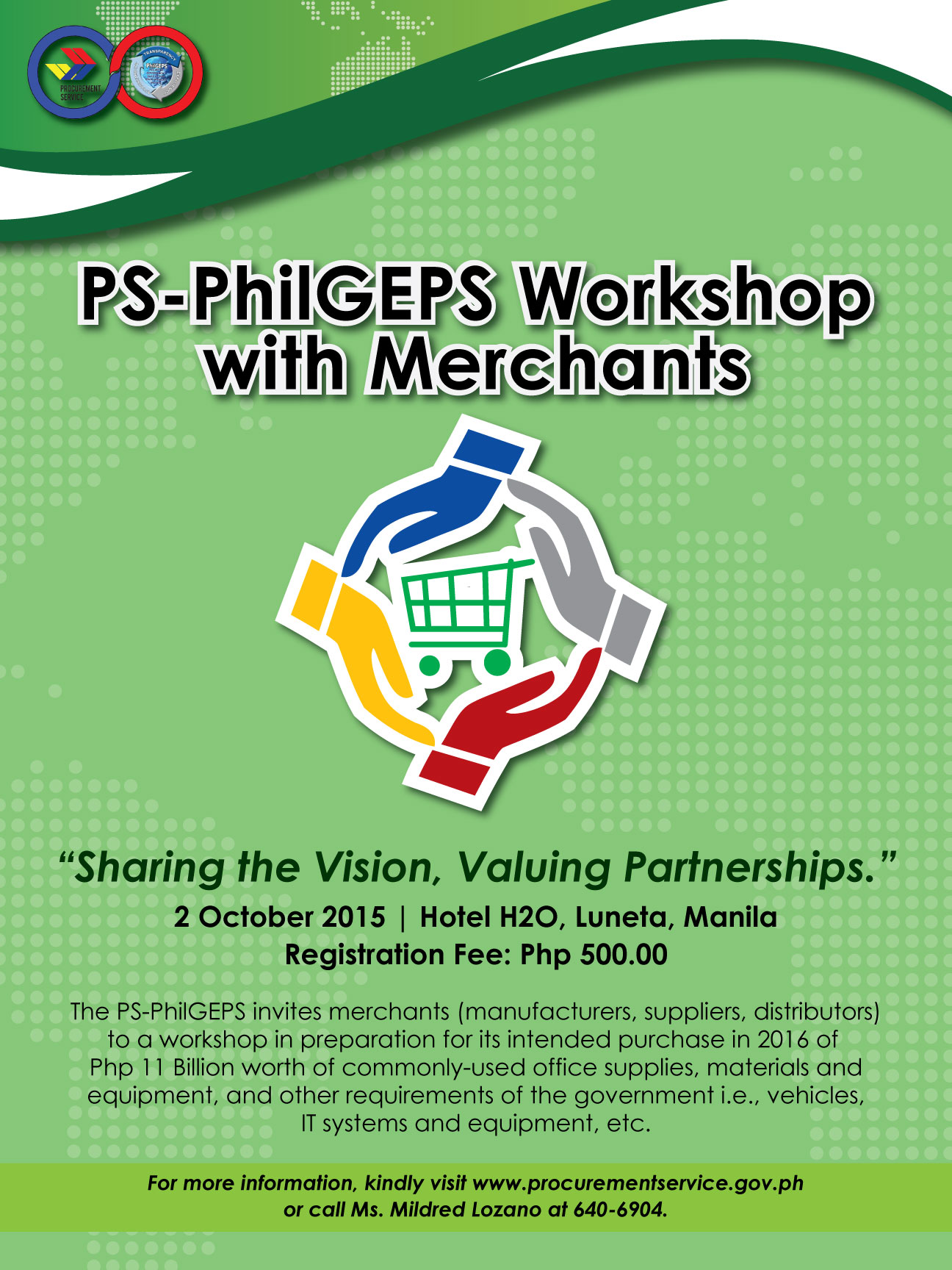 The Procurement Service-PhilGEPS (PS-PhilGEPS) will be conducting a workshop with the theme "Sharing the Vision, Valuing Partnerships" to engage merchants (manufacturers, suppliers, distributors, traders) that have been doing business with the PS-PhilGEPS as well as invite NEW merchants to participate in the various tenders and opportunities to serve the aggregated requirements of government for commonly required goods and services, as well as its other requirements.
In 2014, the PS-PhilGEPS bought Php 5.4 Billion worth of goods and services that the whole of government required, including some unique requirements of government agencies such as IT equipment, mobility, infrastructure requirements, etc. For 2016, it is envisioned that it will be procuring an estimate of Php 5 Billion worth of commonly required supplies and equipment, and an estimate of Php 6 Billion worth of non-common requirements. For more information on the items that PS-PhilGEPS buy, kindly click the "What We Buy" tab in the homepage.
The event will be held on October 2, Friday, from 8:00 a.m. (registration time) to 4:00 p.m. at the H2O Hotel Manila located at Roxas Blvd., Manila (behind the Quirino Grandstand). Participation in the said workshop will only be approved and confirmed upon sending of the registration form and after payment of the workshop fee of Five Hundred Pesos (Php 500.00) per participant. Kindly note that a maximum of only two participants per company/firm is permitted to attend to allow for participation of as many companies as possible in the workshop.
For more information, kindly click the links below: