Details
This is to inform client agencies that Microsoft will be extending validity of current prices for Microsoft products and licenses only until April 30, 2018. You are therefore kindly advised to submit your funded APRs to purchase your requirements before the said date to the PS Main Office or the Regional Depots in your area to facilitate procurement before prices increase effective May 1, 2018.
You may contact Ms. Anna Bona of the PS Marketing and Sales Division at 6897750 local 4019 for further queries. You may likewise visit the PS website (www.ps-philgeps.gov.ph) to view the current Microsoft price list. Thank you.
Details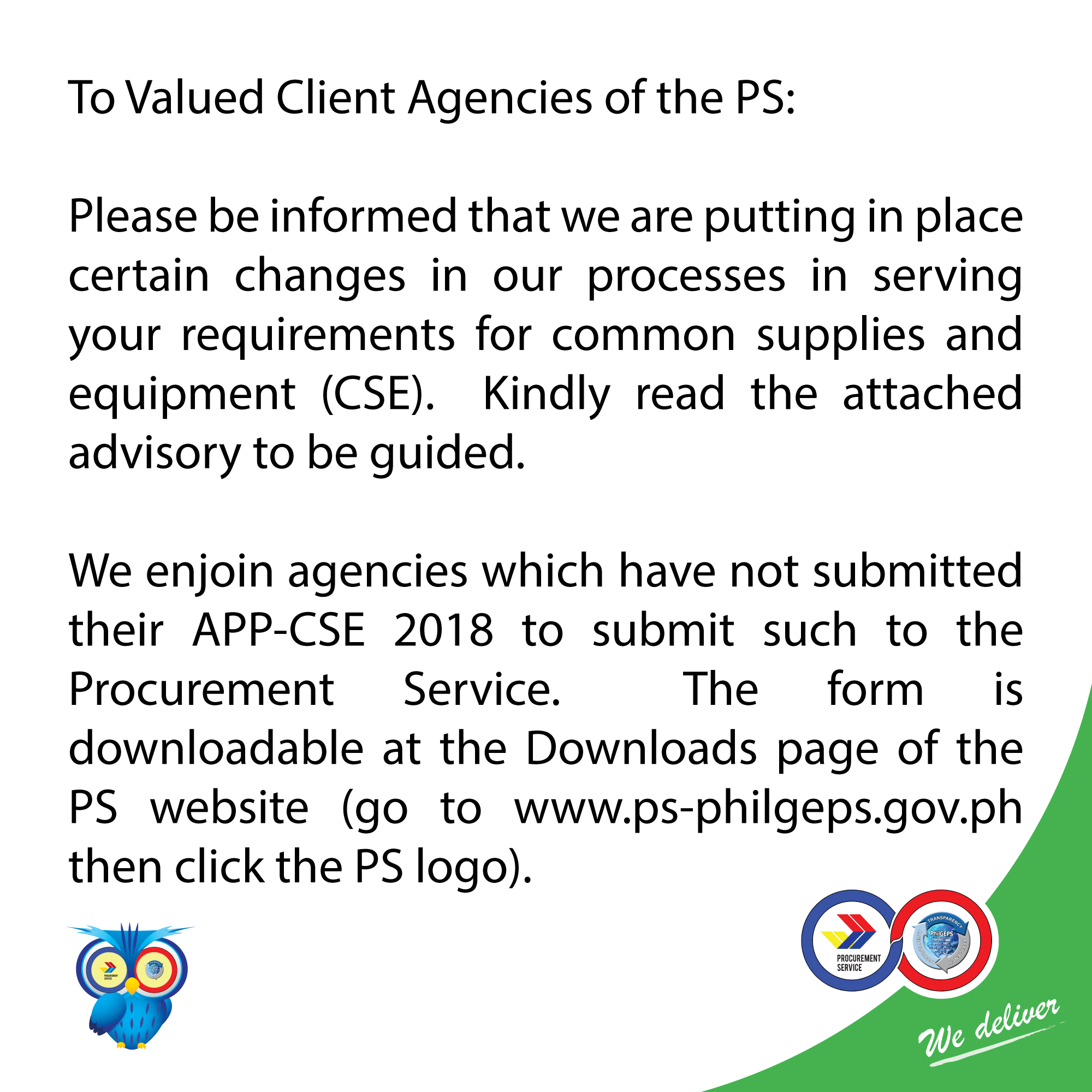 The Procurement Service (PS) will soon implement a new process in procuring CSEs by client agencies. Whereas, agencies were required to submit a funded AGENCY PROCUREMENT REQUEST (APR), in the current process, such will no longer be required in the new process. Instead, the submitted Annual Procurement Plan for Common Supplies and Equipment (APP-CSE) for 2018 will be the triggering document for purchases of CSEs from the Procurement Service.
DBM Circular Letter No. 2016-9 dated October 27, 2016 prescribes that the APP-CSE should be considered as the Agency Procurement Request (APR) for the purpose of ordering CSEs from the Procurement Service. The most recent issuance of the DBM, Circular 2017-12, reiterates this provision.
Read more: ADVISORY TO PS' CLIENT AGENCIES ON THE REQUIREMENT OF THE APP-CSE 2018 IN LIEU OF THE SUBMISSION...