Details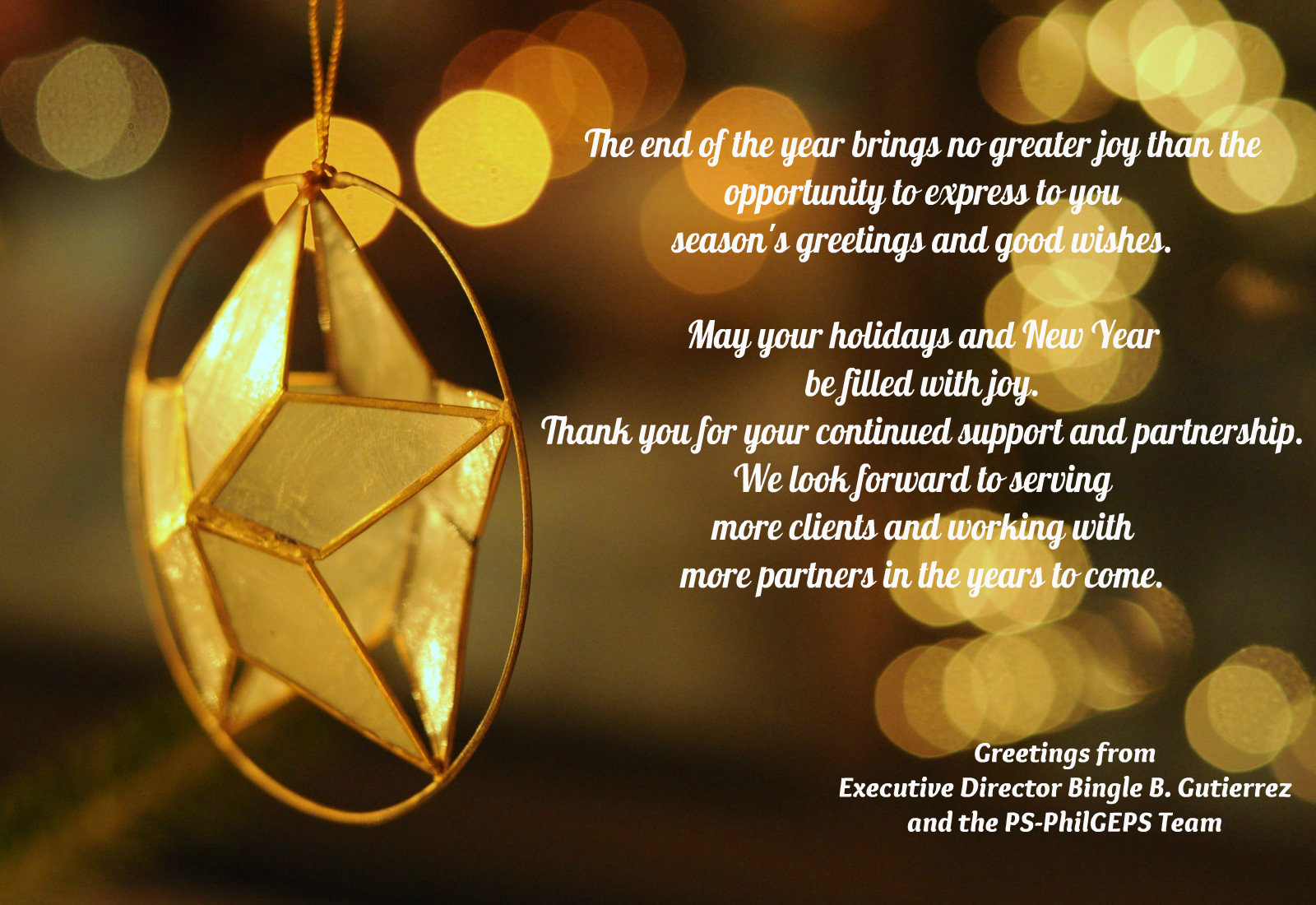 Details
Green Public Procurement (GPP) is set to be implemented in the Philippines. A series of workshops and conferences have been conducted to prepare for its adoption. The most recent one was the "Regional Capacity Building: Measuring Carbon Emissions of Non-Electrical Products and Lifecycle Costing for Construction Works Focusing on Energy Consumed and Material Applications" in Corus Paradise Resort in Port Dickson District, Negeri Sembilan Darul Khusus, Malaysia on November 14 to 18, 2016. 
The PS-PhilGEPS delegation to the Green Procurement Conference in Malaysia.
Read more: Ps-PhilGEPS sends delegates to the Green Public Procurement Conference in Malaysia
Details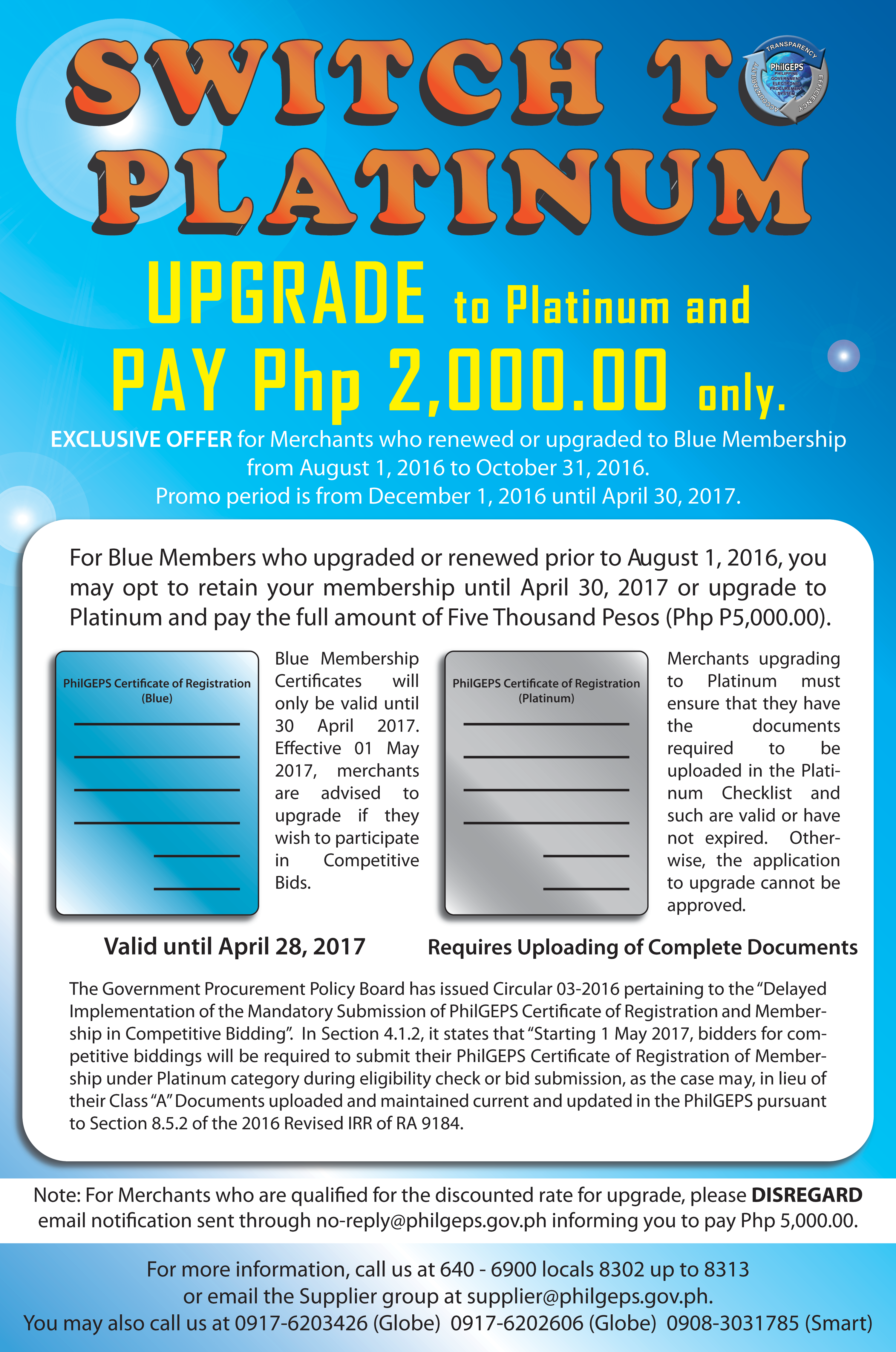 The Government Procurement Policy Board has issued Circular 03-2016 pertaining to the "Delayed Implementation of the Mandatory Submission of PhilGEPS Certificate of Registration and Membership in Competitive Bidding". In Section 4.1.2, it states that "Starting 1 May 2017, bidders for competitive biddings will be required to submit their PhilGEPS Certificate of Registration of Membership under Platinum category during eligibility check or bid submission, as the case may, in lieu of their Class "A" Documents uploaded and maintained current and updated in the PhilGEPS pursuant to Section 8.5.2 of the 2016 Revised IRR of RA 9184."
The PhilGEPS issues the following guidelines in light of the above GPPB Circular.
Read more: Switch to Platinum: Advisory for All Merchants Under Blue Membership
Details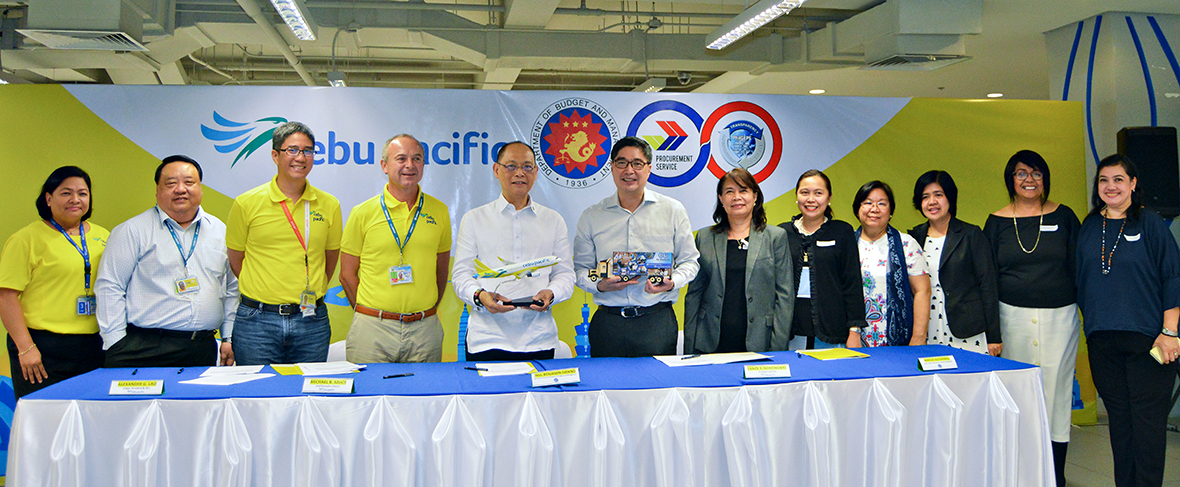 From left to right: Arlene Tena, Director for Passenger Sales of Cebu Pacific; Andrew Huang, Chief Finance Officer; Alexander Lao, President and CEO of Cebgo; Michael Szucs, Chief Executive Adviser of Cebu Pacific; Benjamin Diokno, Secretary of Department of Budget and Management; Lance Gokongwei, President and CEO of Cebu Pacific; Bingle Gutierrez, Executive Director of DBM's PS-PhilGEPS; Agnes Bailen, Undersecretary of DBM; Flerida Arias, Officer-in-charge Director, Operations Group of PS-PhilGEPS; Rosa Maria Clemente, OIC Deputy Executive Director V of PS-PhilGEPS; Dalisay Dela Chica, Chief, Sales Division of PS-PhilGEPS; Leah Valdez, Chief, Marketing Division of PS-PhilGEPS
November 28, 2016 – Performing its mandate to aggregate the common requirements of government, the Procurement Service – Philippine Government Electronic Procurement System (PS-PhilGEPS), an attached agency of the Department of Budget and Management (DBM), signed the Government Fares Agreement (GFA) with Cebu Pacific (CEB) which will take effect by 2017. The signing ceremony was conducted at the Cebu Pacific Airline Operations Center in Pasay City.
Read more: PS-PhilGEPS signs MOA for Government Fares Agreement with Cebu Pacific