"The very essence of these teambuilding activities is to bring us together despite whichever division we belong from and work as one to achieve a common goal." –Executive Director Bingle B. Gutierrez
The PS-PhilGEPS officials and staff conducted their team building and annual assessment activities at The Camayan Beach Resort in Subic Bay Free Port, Zambales last March 29 to 31, 2017. Upon arrival at the venue, the crew of the resort welcomed the group and gave an overview of the facilities available as well as the house rules particularly on safety. Mini-games were played and prizes were distributed to lucky winners.
Selected participants competing in the "Hep-Hep, Hooray" game for the grand prize (dolphin stuffed toy) 
In the afternoon, the participants checked into their designated rooms and then converged again at the meeting hall according to Functional Groups to discuss issues and conduct planning sessions.
OIC-Director Joel Eayte of the Administrative Group opening the agenda for discussion 
The second day was dedicated to team building activities which started at 7:00AM. All employees were grouped into particular colors. The Camayan Beach crew members facilitated the conduct of three team-based games with some PS-PhilGEPS staff acting as marshals. The games required wit, proper coordination, speed, strength, balance, flexibility and leadership skills.
The five (5) teams in their assigned color preparing for the warm up exercises
The shepherds uniquely calling out for their blindfolded sheep to guide them to safety
The Blue Team led by Mesdames Dalisay Dela Chica, Nenita Oaper, and Teresita Dela Cruz emerged as champions followed by the Red Team managed by Atty. Vhincent Cañares, OIC-Directors Joele Eayte and Laarni Testor as runner-up. The rest of the runner ups were the Yellow, Green and Orange teams. Fun, excitement and an overflowing of adrenalin was felt during the games. Awarding ceremonies and socials took place in the evening along the beach side. There were also photo booths and karaoke set ups to make the celebration livelier. In the rigorous daily tasks we do at PS-PhilGEPS, it's always great to take a breather away from the office. All of the team building activities achieved its goals to enhance the competitive spirit while motivating people to perform at their individual best, and as team players. 
The champions in their wacky poses with Executive Director Gutierrez and Deputy Executive Director Clemente during the awarding night
On the last day, the participants were all gathered in the meeting hall to wrap up discussions made by each Functional Group during the first day. In the assembly, each division was given the opportunity to share. During the closing remarks, Executive Director Gutierrez, instructed the Division Heads to submit their reports to their respective Functional Group Directors for consolidation.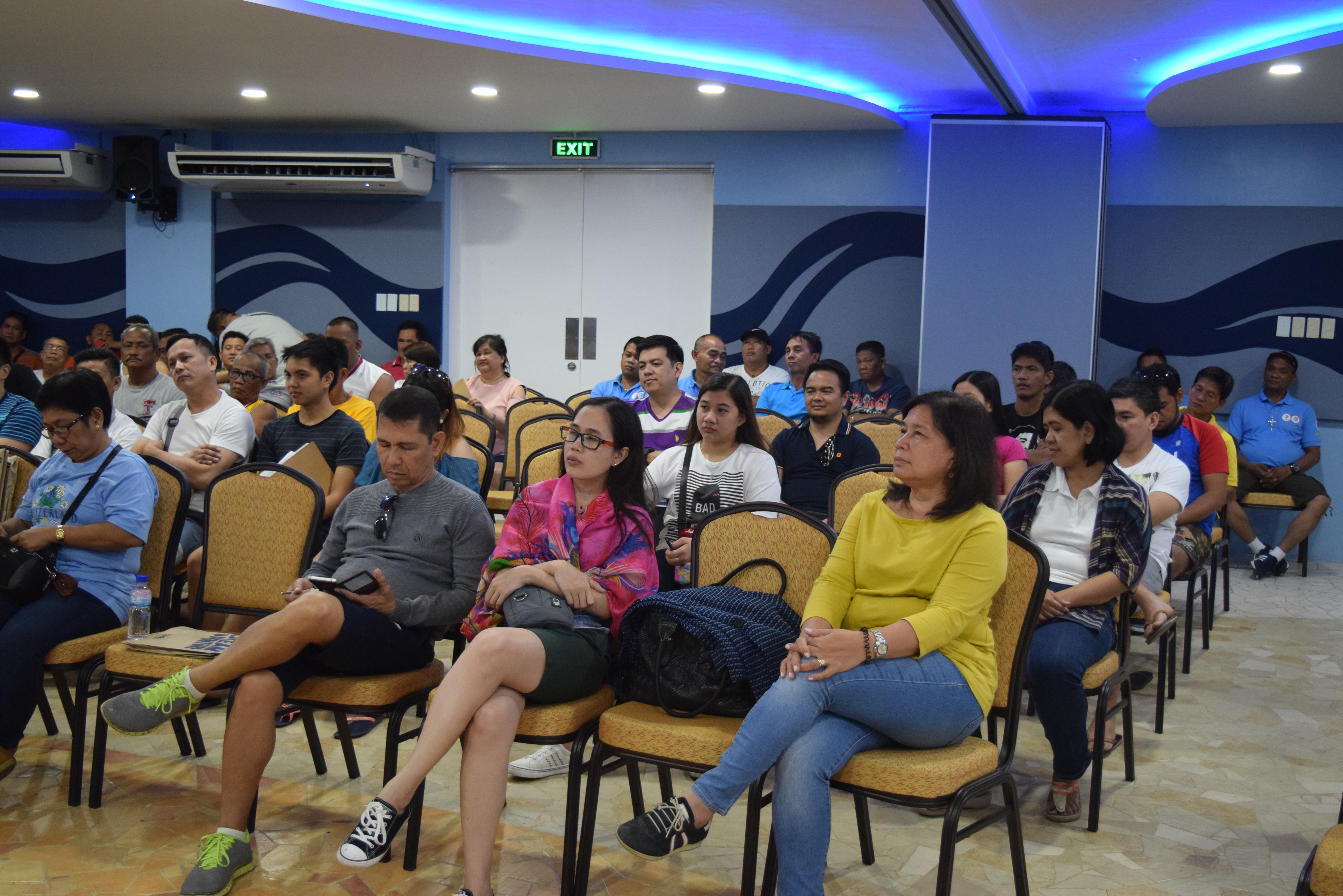 The final assembly before departure bound to Manila Executive Director Gutierrez delivering the closing remarks
Executive Director Gutierrez delivering the closing remarks
After lunch, the team building activities were formally closed and everyone headed back to Manila with a resolve to contribute in achieving the mission and goals of the PS-PhlGEPS