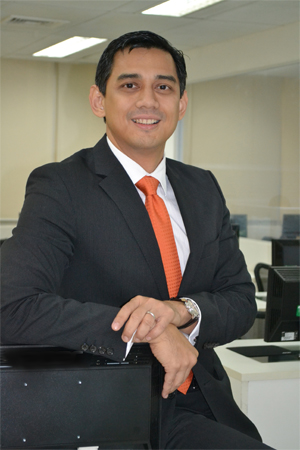 Atty. Jose Tomas C. Syquia is the newly appointed Executive Director IV of the Procurement Service (PS). Budget Secretary Florencio B. Abad made the formal announcement on July 18, 2014. Atty. Syquia replaces Atty. Estanislao C. Granados, Jr., who reached the mandatory age of retirement from government service effective July 21, 2014.
Atty. Syquia earned his Juris Doctor (second honors) from the Ateneo de Manila University in 1994, and obtained his Masters of Law in International Law from the University of Nottingham, UK in 1996, and a Certificate in Procurement (EU Public and Advance Procurement Law, Organization and Management of Procurement Systems) in 2012, also from the same university. His main areas of specialization include Securities Law and Corporation/Commercial Law, and Public Procurement.
Having been engaged in the practice of law since 1995, Atty. Syquia is not new to government service. His career in government started back in 1997as a State Counsel at the Department of Justice (DOJ), and he was also a Director at the Compliance and Enforcement Department of the Securities and Exchange Commission (SEC) before being a private law practitioner.He has taken on numerous procurement consultancy projects for the past 9 years where he was a procurement advisor to various government agencies such as the Department of Energy (DOE), Department of Education (DepEd), Commission on Higher Education (CHED), and DBM.
As mandated by Section 53.5 of the Implementing Rules and Regulations of Republic Act. No. 9184, thePS is the central agency mandated to undertake an integrated procurement system for the common-use supplies requirement of the government. The PS also manages and operates the Philippine Government Electronic Procurement System (PhilGEPS). As the new PS Executive Director, Atty. Syquia is committed to further streamlining the procurement process, instituting reforms and systematizing and modernizing theconduct of government procurement.