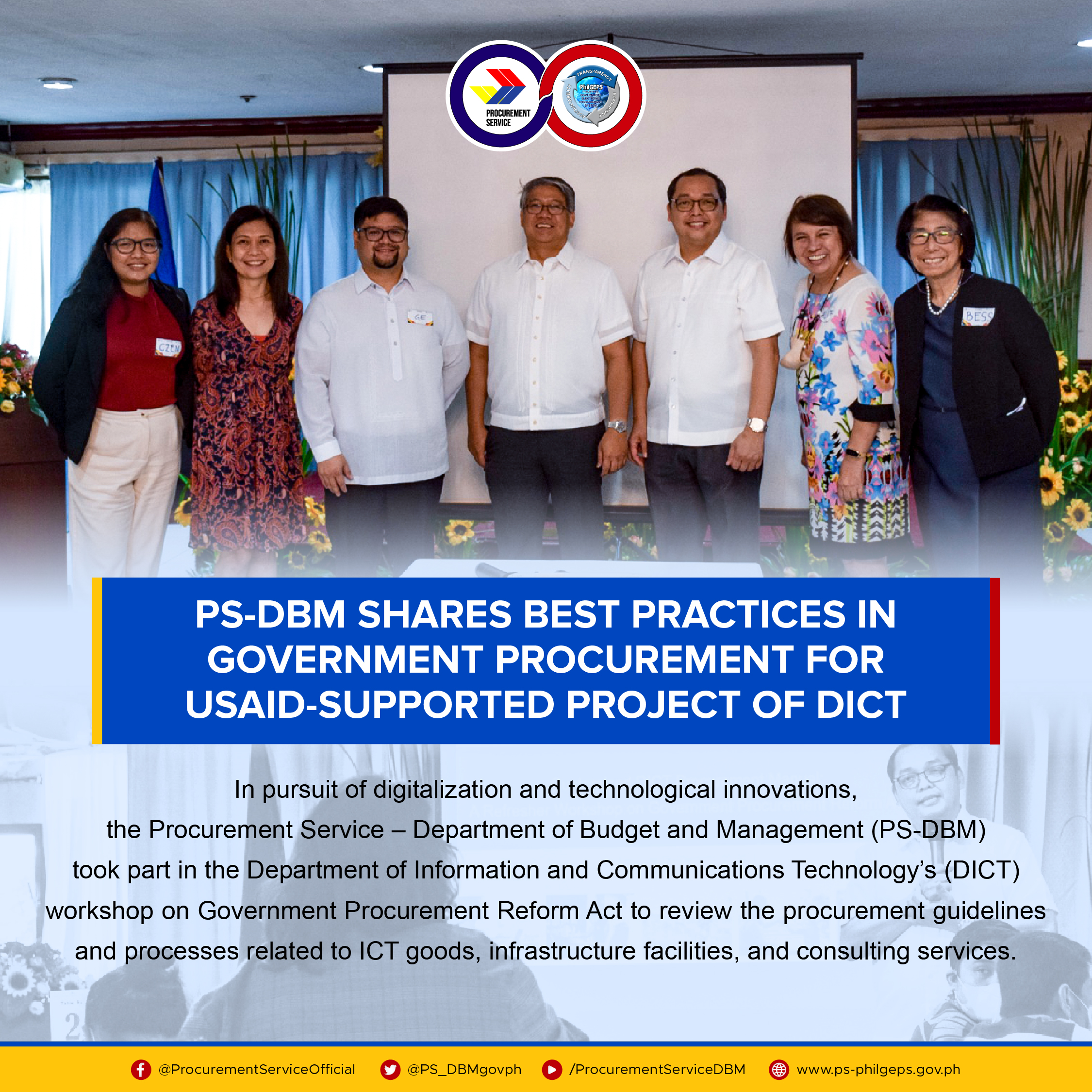 In pursuit of digitalization and technological innovations, the Procurement Service – Department of Budget and Management (PS-DBM) took part in the Department of Information and Communications Technology's (DICT) workshop on Government Procurement Reform Act to review the procurement guidelines and processes related to ICT goods, infrastructure facilities, and consulting services.
Represented by Executive Director (ED) Atty. Dennis S. Santiago, PS-DBM on November 29, 2022 shared its best practices on government procurement based on expertise and experience, from the planning stage to contract execution. The event was co-hosted by the United States Agency for International Development (USAID) and the Research, Education, and Institutional Development (REID) Foundation, Inc.
Serving as the administrative entity that primarily plans, develops, and promotes the national ICT development agenda, DICT intends to accelerate its efforts in catching up with the rapid global digitalization for the enhanced delivery of public services. In support of this initiative, PS-DBM provided insights into identifying key challenges that the DICT faces in the implementation of Republic Act 9184 and its 2016 revised implementing rules and regulations.
This capacity-building event, held until December 3 in Diliman, Quezon City, is ultimately aimed at developing a customized DICT Procurement Manual to address the gaps unique to the procurement of ICT. With technical assistance and advisory support from USAID and REID Foundation, and the provision of reference materials from the Government Procurement Policy Board-Technical Support Office, a simpler, faster, more transparent, and more competitive procurement is hoped to be achieved.
As the central procurement arm of the whole of government, PS-DBM is honoured to have shared its knowledge and experience of operational rules and procedures in undertaking procurement activities, especially aware that a faster and more efficient acquisition of ICT infrastructure and services contribute to the overall development of the country.