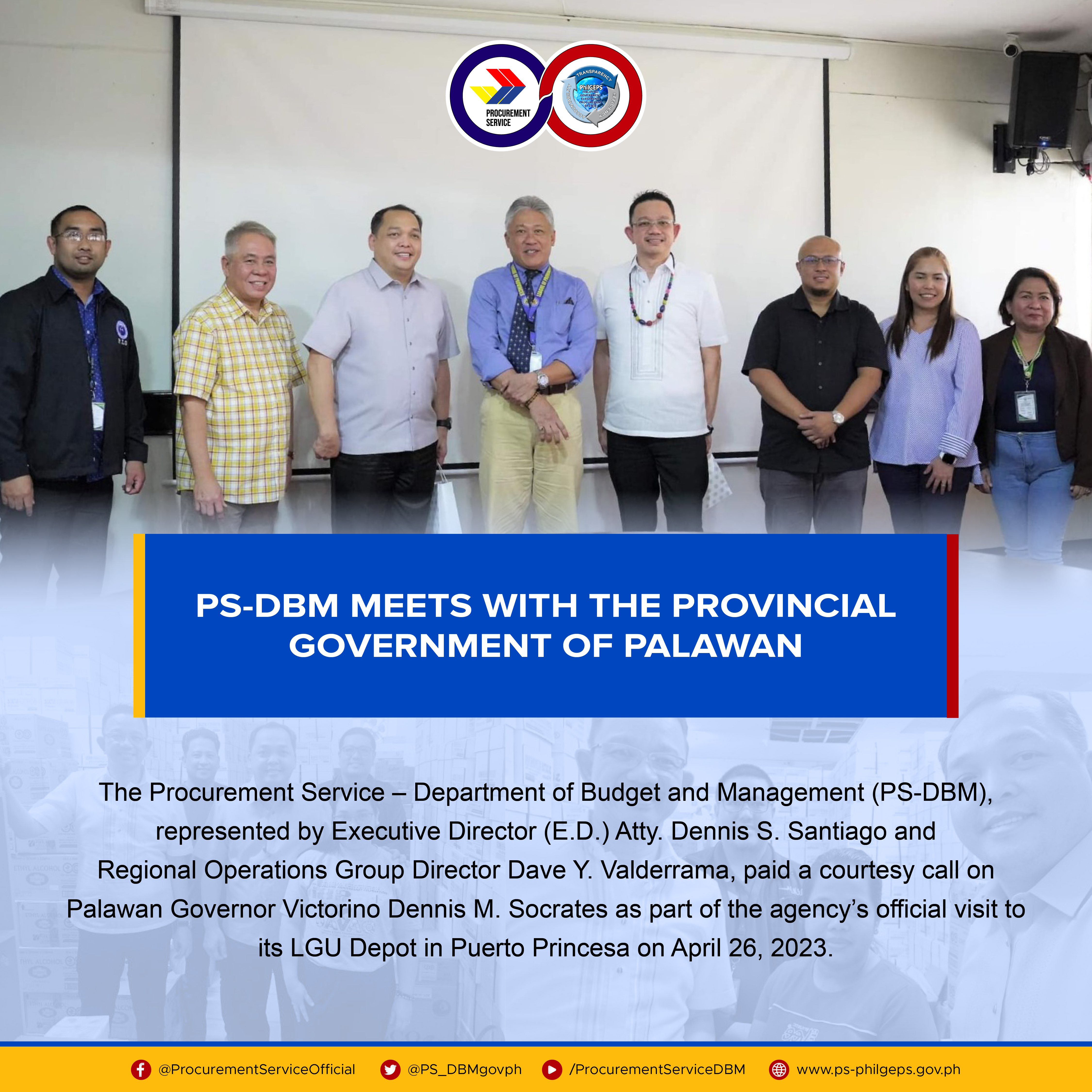 The Procurement Service – Department of Budget and Management (PS-DBM), represented by Executive Director (E.D.) Atty. Dennis S. Santiago and Regional Operations Group Director Dave Y. Valderrama, paid a courtesy call on Palawan Governor Victorino Dennis M. Socrates as part of the agency's official visit to its LGU Depot in Puerto Princesa on April 26, 2023.
In the meeting, E.D. Santiago and Dir. Valderrama highlighted the agency's mandate and processes. They also discussed the products and services that PS-DBM offers, including the available Common-use Supplies and Equipment (CSE) in the Product Catalogue, as well as the Government Fares Agreement (GFA) for airline tickets. On the other hand, they were briefed about the status of the PS-DBM LGU Depot Palawan.
Photos by PIO Palawan
The discussion also served as an avenue to raise issues and concerns of the LGU Depot and how the Provincial Government of Palawan (PGP) comes to aid in addressing them.
Along with Governor Socrates were Provincial Information Officer Atty. Christian Jay V. Cojamco, Provincial Administrator Atty. Jethro M. Palayon, Provincial Legal Officer Atty. Joshua U. Bolusa, PGP General Services OIC Ms. Mercy M. Bontao, and Provincial Accounting Office OIC Ms. Edna Maligro.
This official travel forms part of PS-DBM's series of visits to its network of regional depots in Luzon, Visayas, and Mindanao aimed at streamlining the centralized procurement of CSE as among the agency's reform and transformation programs.
RELATED STORY: ONE PS-DBM IN PalaONE: Servicing Palawan from North to South