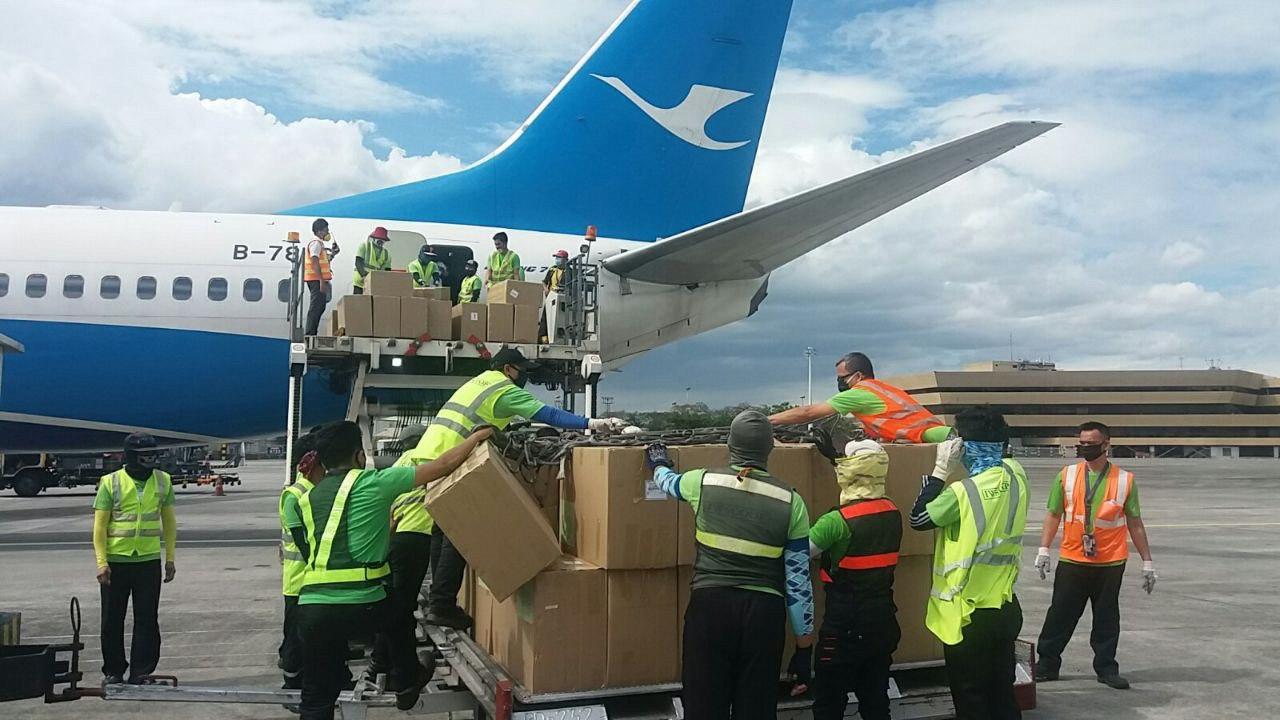 The Chinese government, through a 'goodwill flight,' delivers to the Philippines the second batch of personal protective equipment (PPE) sets procured by PS-DBM from China.
The Procurement Service of the Department of Budget and Management (PS-DBM) continues to fulfil its mission to efficiently and economically procure personal protective equipment (PPE) and other medical supplies in aid of the country's healthcare workers and other frontline personnel.
As of April 14, the Philippine Government received the 100,000 out of the 1,000,000 PPE sets procured from China.
In a press release, the Department of Health (DOH)—the exclusive recipient of all the PPE sets procured from China—acknowledged receipt of the first tranche of the health commodities.
During the turnover ceremony held at the Philippine Airport Ground Support Solutions (PAGSS) in Parañaque City, National Task Force COVID-19 Chief Implementer Secretary Carlito Galvez, Jr. said that chartered flights to and from China are continuous to complete the turnover of all PPE sets, amounting to PhP1.8 Billion.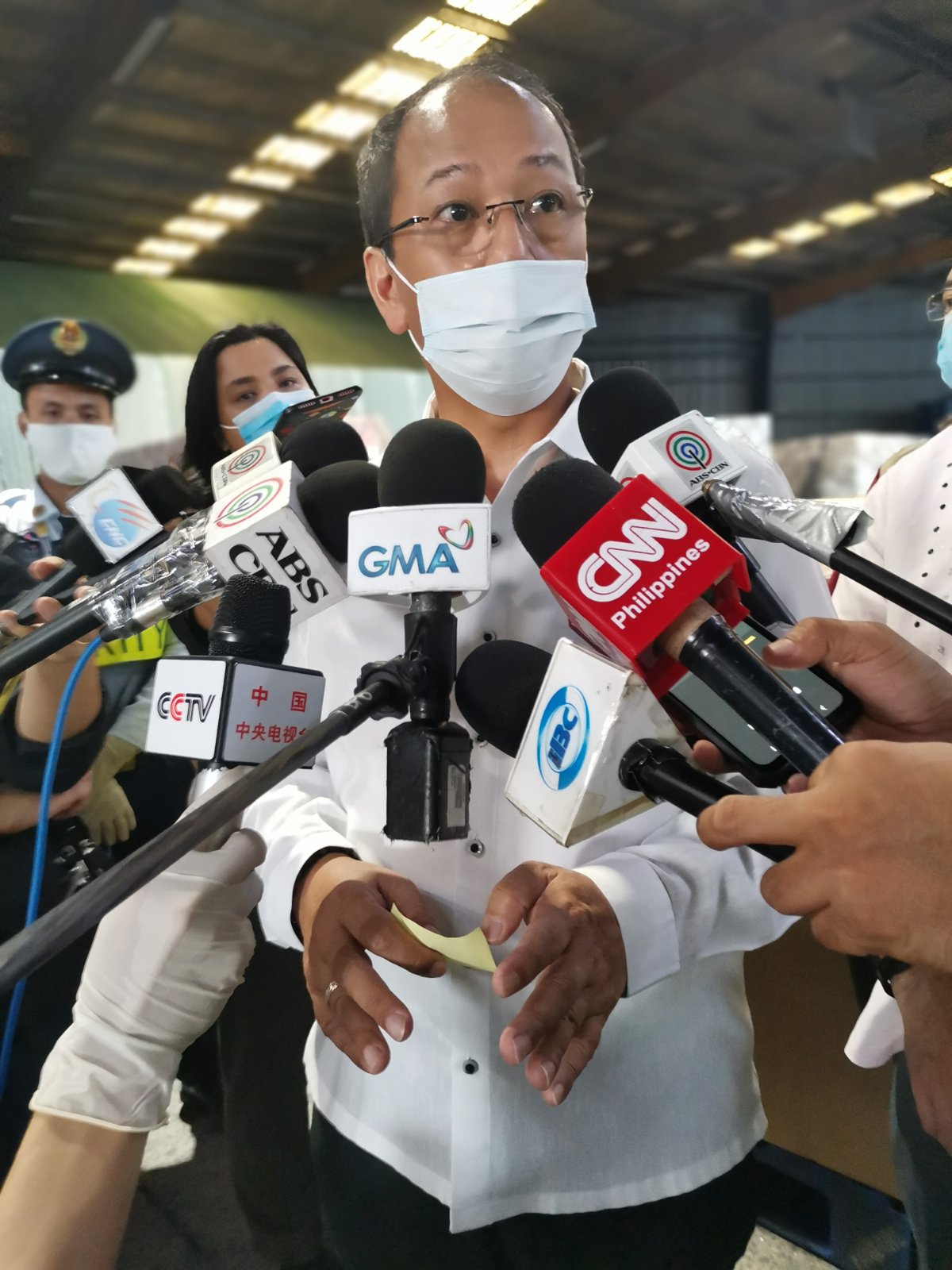 National Task Force COVID-19 Chief Implementer Secretary Carlito Galvez, Jr. speaks to the media about the government efforts to combat COVID-19, including the procurement of more PPE sets for our frontliners.
These PPE sets are inclusive of a medical grade protective coverall, head and shoe covers, 3ply surgical mask, N95/KN95 mask, medical gloves, medical goggles, and surgical gown.
LOOK: The PPE sets procured from China include a total of eight items to ensure that medical professionals are protected from exposure to the virus. | Photos courtesy of Karlo Oropesa
The government is utilizing the Philippine Air Force's C-130 which can accommodate approximately 15,000 PPE sets per flight. The Chinese government, for its part, arranged a 'goodwill flight' through Xiamen Airways to deliver the second batch of the items procured from China.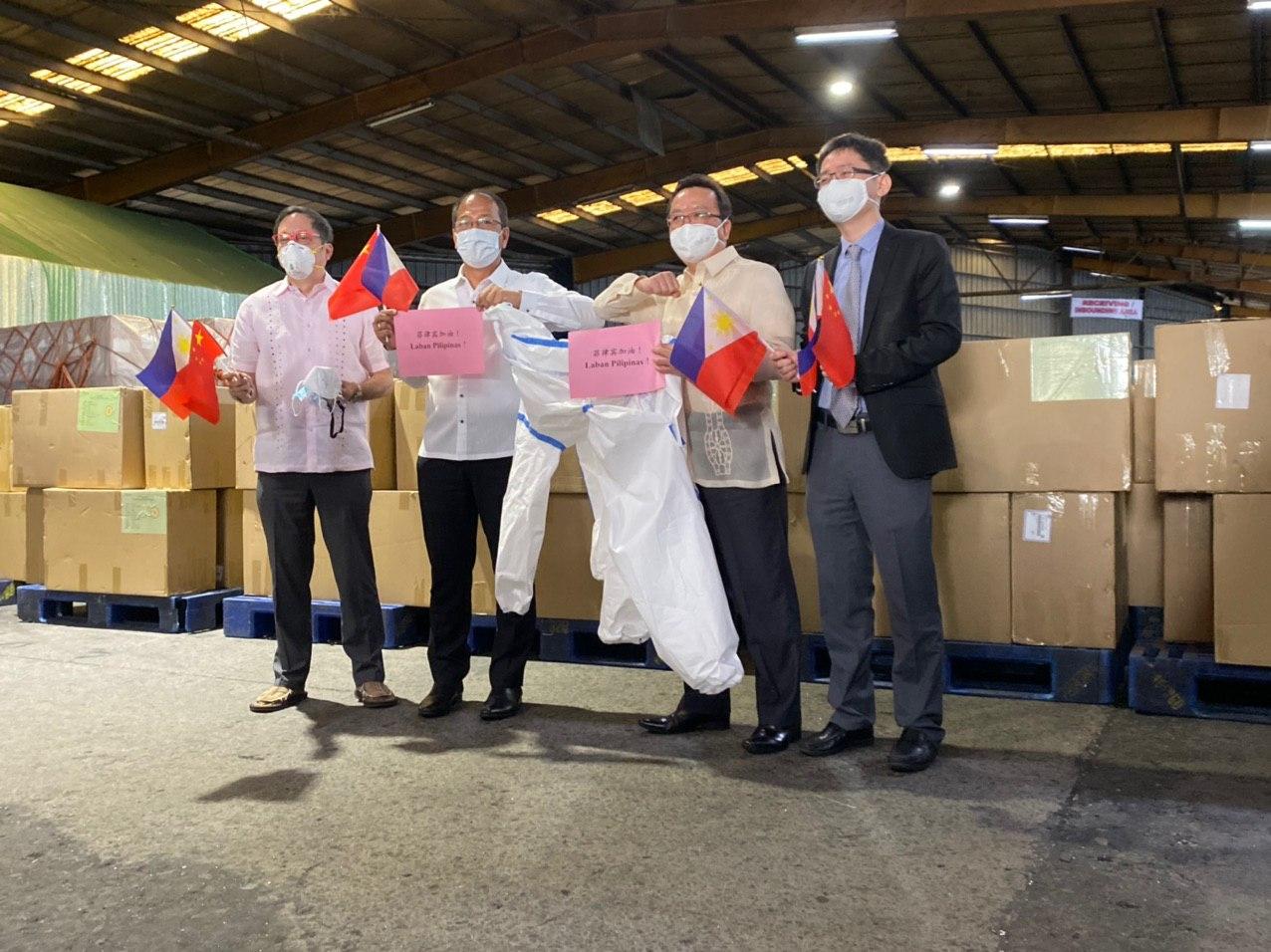 (L-R) Department of Foreign Affairs Undersecretary Brigido Dulay, Secretary Galvez, Chinese Ambassador to the Philippines Huang Xilian and a representative from the Embassy hold flags of the Philippines and China as they formalize the turnover of PPE sets.
Chinese Ambassador to the Philippines Huang Xilian, who also graced the event, said, "We always stand together with the Philippines as brothers and sisters. We do our best to extend our helping hand... Today we are proud to charter a cargo flight to help airlift much needed medical supplies to Manila. We do hope that this kind of action will be helpful to the Philippines in fighting the epidemic."
To further expedite the turnover, Secretary Galvez and officials of other concerned government agencies are now considering to make use of a Philippine Navy ship.
"Siguro before April 25, makakakuha na tayo ng more or less 250,000 (PPE sets)," Secretary Galvez said.
Officer-in-Charge and Executive Director of PS-DBM Undersecretary Lloyd Christopher Lao, in a separate interview, was quick to note that the PPE sets from China are "medical grade"—which by definition pertains to materials that comply with global regulatory requirements and are specifically engineered for medical use.
"The level of protection is very high. Maganda ang feedback ng ating mga doctors, nurses, and other frontliners pertaining to these PPEs," Secretary Galvez echoed.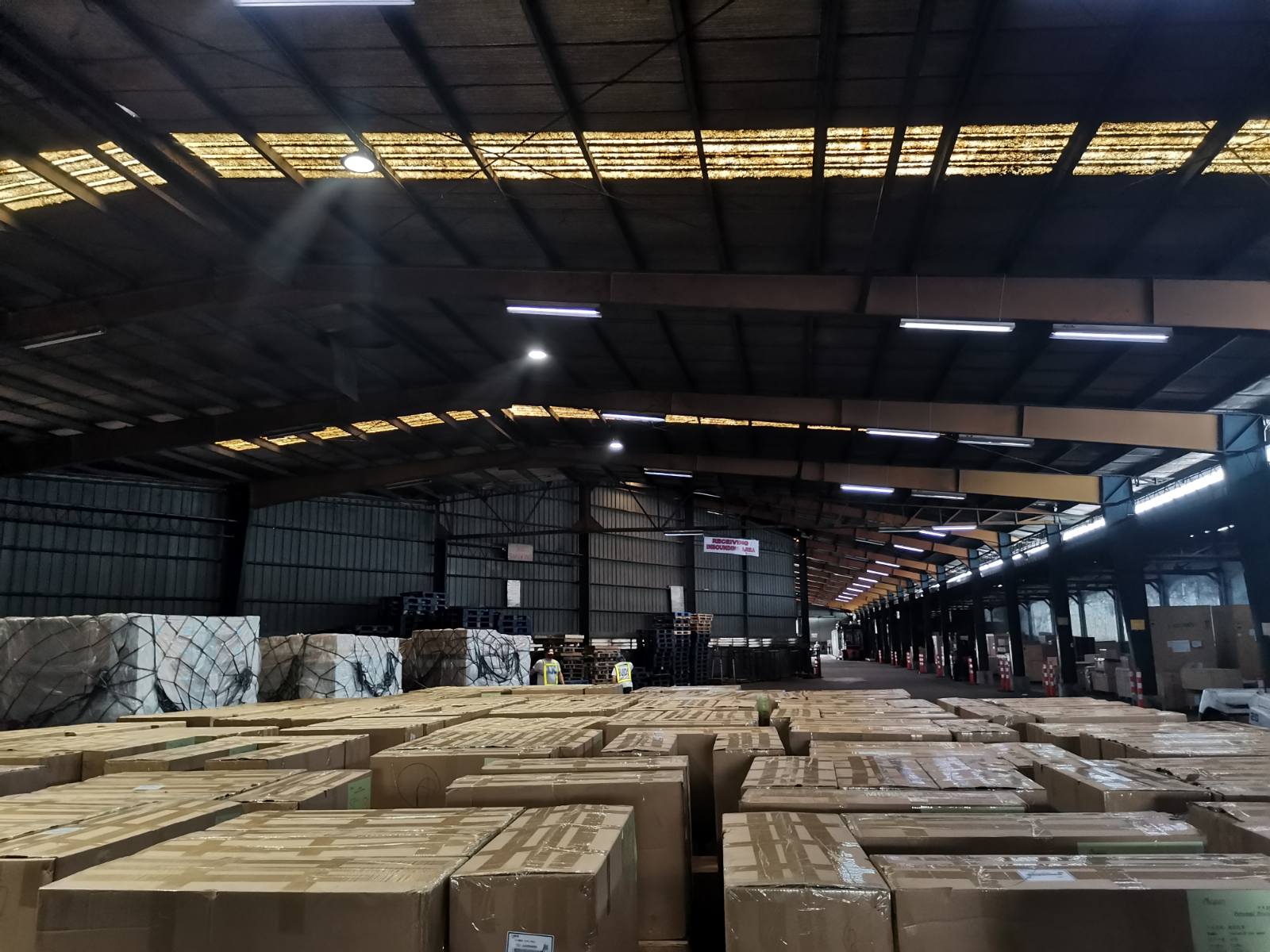 Thousands of PPE sets from China arrive at PAGSS. These will be inspected and decontaminated to ensure safety of Filipino frontliners.
Undersecretary Lao uses these positive feedbacks to encourage local PPE suppliers to also manufacture and provide a sustainable supply of quality PPEs for mass production in the country.
"I'm educating some local sastre (tailors) to do it for us... We also teach them how to upgrade," Undersecretary Lao said, "I gave them sample of materials that we buy and encouraged them to change the quality of materials they use. Kapag nagaya nila 'yun, we will buy directly from them. We prefer that our money goes to Filipinos."
Department of Foreign Affairs Undersecretary Brigido Dulay, who was also present during the turnover at PAGSS, put it aptly, "We are all responsible members of the international community and it's our job to really help out each other the best way we can."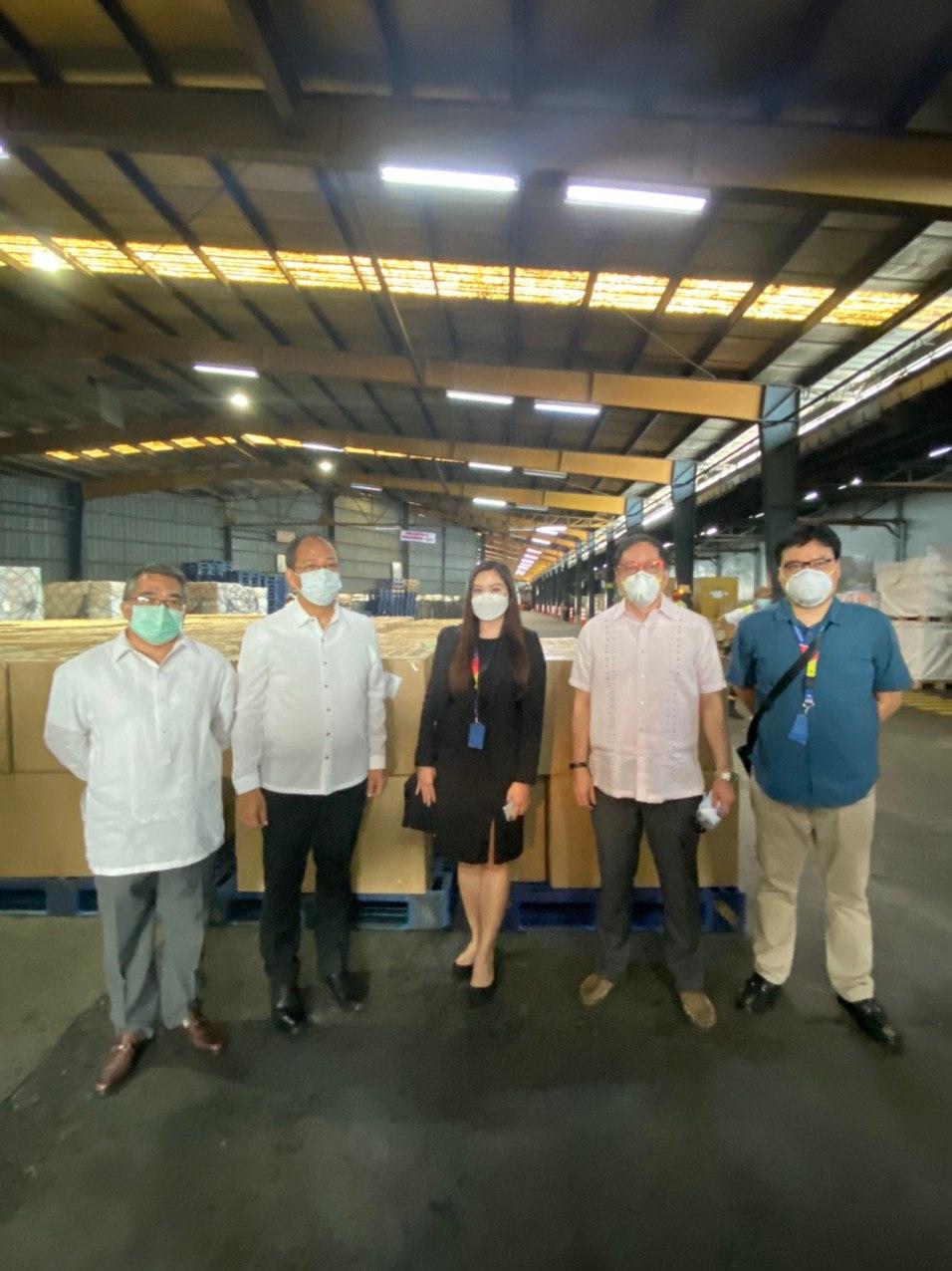 (L-R) DFA Assistant Secretary Meynardo Montealegre, Secretary Galvez, PS-DBM Administrative and Finance Group Director Christine Marie Suntay, DFA Undersecretary Dulay, and PS-DBM Procurement Group Director Atty. Warren Rex Liong
To ensure safety of medical professionals and other frontliners who will eventually be using these newly-delivered PPEs, the items will go through decontamination procedure before they will be distributed to healthcare facilities.