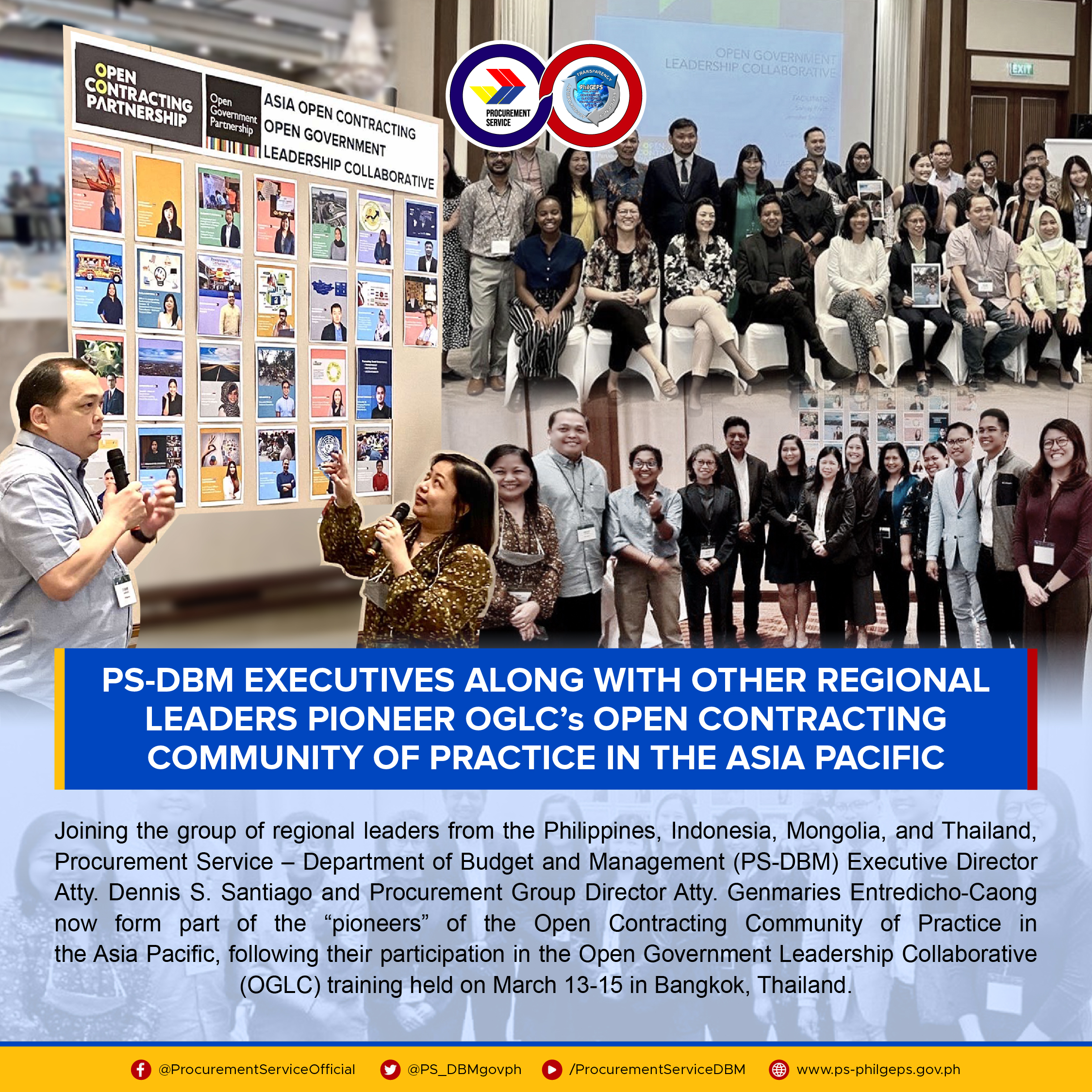 Joining the group of regional leaders from the Philippines, Indonesia, Mongolia and Thailand, Procurement Service – Department of Budget and Management (PS-DBM) Executive Director Atty. Dennis S. Santiago and Procurement Group Director Atty. Genmaries Entredicho-Caong now form part of the "pioneers" of the Open Contracting Community of Practice in the Asia Pacific, following their participation in the Open Government Leadership Collaborative (OGLC) training held on March 13-15 in Bangkok, Thailand.
The OGLC program is a project of the Open Government Partnership (OGP) that seeks to enhance the leadership capacity of reformers within the context of their work. Ultimately, OGLC targets to build a refreshed and ever-growing coalition of committed leaders spearheading transformative reforms and advancing the open government movement.
The three-day event provided participants with practical tools and tactics, as well as tailor-made inspirational content, in dealing with critical leadership challenges relative to the application of open contracting reform.
 Through various activities such as peer-to-peer exchanges and focused conversations aimed at empowering and connecting reformers, the enhancement of skills centered not only on the technical implementation of open contracting policies and standards, but also on developing value propositions; engaging stakeholders; securing political buy-in; and building trust, among others.
 PS-DBM recognizes that open government — or one that is more transparent, inclusive, participatory, and accountable — requires bold individual and collective efforts to be able to forge alliances, mobilize people, and deliver results. With the agency's participation in worldwide initiatives such as OGP's OGLC, commitments from governments and other stakeholders are secured.
 As pioneers, Atty. Santiago and Atty. Entredicho-Caong are now part of a dynamic group of government leaders, global thinkers, and changemakers who shall shape, broaden, and deepen open contracting in the Asia Pacific going forward.