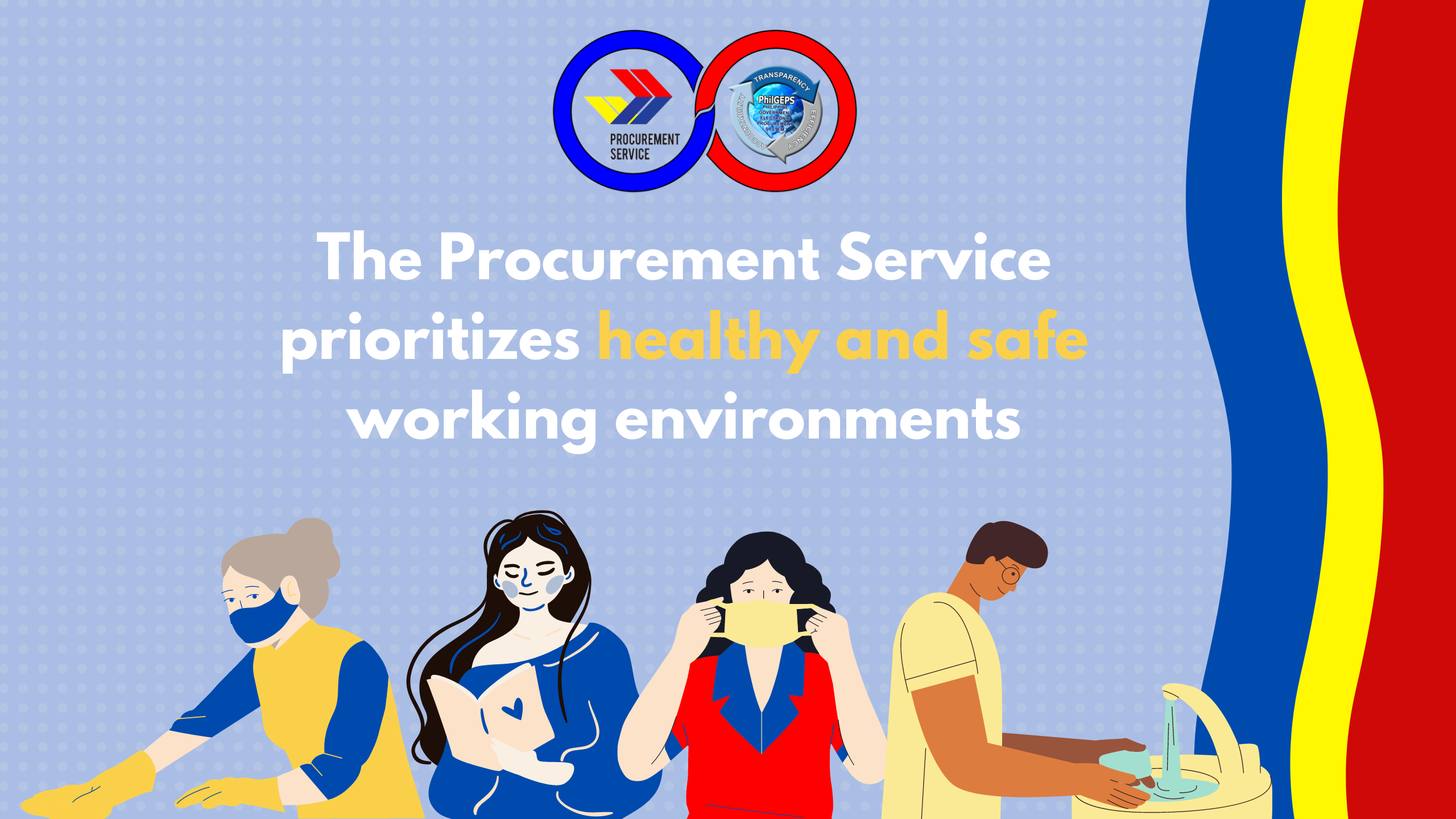 In commemoration of World Day for Safety and Health at Work, the Procurement Service-Department of Budget and Management (PS-DBM) maintains that the employees' safety and health at work remain as top priority amid its operational continuity during the COVID-19 pandemic.
By providing physical and mental support—recognized as among the fundamental rights of employees—PS-DBM aims to raise awareness on how a safe and healthy working environment can help reduce the number of work-related diseases, injuries, and deaths.
Health protocols at the office are being enforced and all personnel are urged to adhere to all precautionary measures to minimize the risk of exposure to COVID-19 in the workplace. All premises are also being disinfected and sanitized frequently.
Alternative work arrangements and support mechanisms for workers during community quarantine periods are being implemented. Pregnant women and employees with health risks are prioritized to be placed under a work-from-home scheme. The skeleton work force, meanwhile, reports to the office to ensure business resiliency of the agency.
In a bid to keep its employees informed, the PS-DBM through the Quick Response Team (QRT) regularly sends updates on matters related to COVID-19 such as the latest number of cases not only in the workplace but also in the country. The QRT also organizes the scheduling of RT-PCR swab tests for COVID-positive employees and their declared close contacts.
Most recently, the QRT conducted a vaccination roll-out survey for employees who wish to avail free vaccination from the office.
When PS-DBM commemorates other celebrations, such as the Women's Month in March, it makes certain that safety and health initiatives are incorporated. In promoting Gender and Development in the office, PS-DBM gave away Care Kits that contain essential items including cleaning materials and medicines.
Looking after the employees' mental health is also being prioritized. The establishment of the Mental Health Program aims to promote and protect the overall wellness of all officials and employees.
Safe and healthy workplaces are of vital importance to mitigate the effects of the viral disease. Implementation of and compliance with protocols at work require proactive participation from all levels of the organizational structure. Our efforts in combating the COVID-19 crisis are a shared responsibility that we all must collectively act upon.