The Procurement Service - Department of Budget and Management (PS-DBM) donated personal protective equipment (PPE) including 31,250 pieces of surgical face masks and 769 bottles of alcohol to the National Commission on Muslim Filipinos (NCMF) on 18 May 2021 in commemoration of the Eid'l Fitr celebrated last 13 May 2021.
The PS-DBM, grounded by its core values of compassion and care for the community, understands the essence of the month-long fasting of our Muslim brothers and sisters. Through its Gender and Development (GAD) Committee, headed by Administrative and Finance Group and PhilGEPS Director Christine Marie L. Suntay, the PS-DBM initiated activities to raise awareness on the celebration of Eid'l Fitr.
Part of such initiatives was the turnover ceremony of the donations held at the NCMF Main Office in Quezon City. The event was graced by NCMF Secretary Saidamen Pangarungan, Executive Director Tahir S. Lidasan, and Planning and Services Director Haidee V. Ampatuan, and Director Suntay, among others.
As COVID-19 remains a threat, the NCMF expressed gratitude on the provision of PPE.
"Kami po ay taus-pusong nagpapasalamat sa mga donations ninyo... Makakaasa po kayo na itong mga donations ninyo ay magagamit sa kanyang purpose," Secretary Pangarungan said.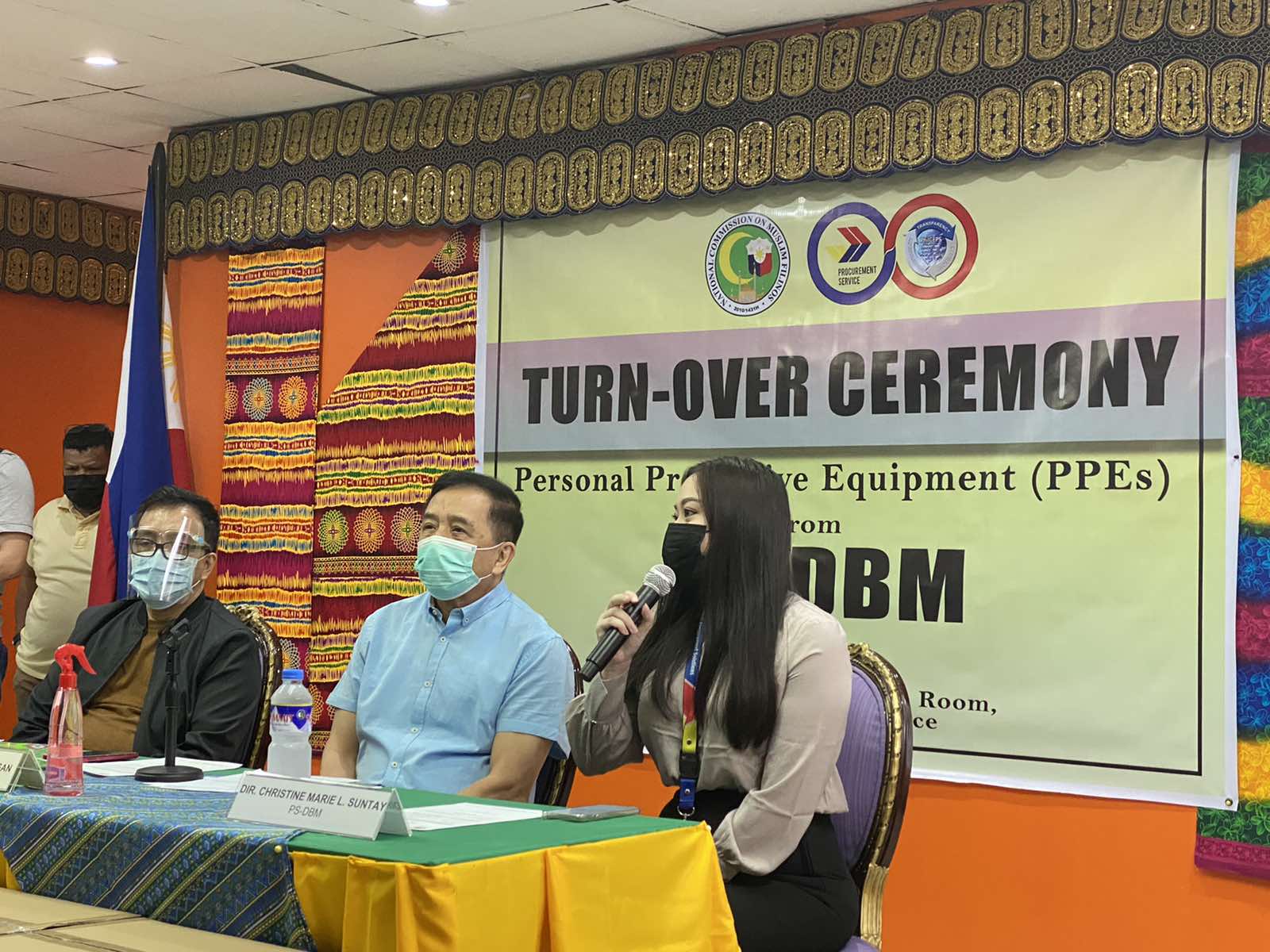 From left to right: NCMF Executive Director Tahir Lidasan, NCMF Secretary Saidamen Pangarungan, PS-DBM AFG and PhilGEPS Director Christine Marie Suntay
Donated items include face masks and alcohol
Director Suntay, in her speech, emphasized that the donation goes beyond providing protection from the virus amid the pandemic.
"We believe that efforts such as this will not only boost our emergency response against COVID-19, but also promote inclusivity and harmony within communities," Director Suntay said.
In addition, Director Suntay also took the chance to educate PS-DBM employees about the relevance of the celebration. In coordination with the GAD Committee and the Communications Team under the Marketing and Sales Division, an information drive was spearheaded to share basic facts about the Muslim's holy month via email to all employees.
"This is a very important religious holiday celebrated by our Muslim brothers and sisters worldwide... We plan to have more projects like this in the future and hopefully we will achieve our objective of allowing our employees to establish a meaningful connection with this holiday in the coming years," Director Suntay added.
PS-DBM received certificate of appreciation from NCMF
In the same spirit of respect, camaraderie, and unison with its Muslim colleagues, the PS-DBM also distributed halal products and grocery items to the employees at the Main Office in Paco, Manila—a portion of the budget for such was also allotted for regional office personnel.
Grocery items which included halal products were distributed to the PS-DBM Main Office employees.
The distribution of Eid Tokens was spearheaded by the Gender and Development Focal Point System,
Human Resource Development Division, and General Services Division.
This is the second year that Ramadhan was celebrated with pandemic-altered observances, and initiatives such as this prove that despite the differences in religion, we all share the same beliefs and practices in glorifying our God and in doing good deeds to our neighbours.
PS-DBM procures COVID-19 response items in aid of the country's frontline workers and other service personnel amid the pandemic. To view all available items and their specifications, visit bit.ly/344czRp. For the detailed procedure on how to order, and the contact information for your queries, click bit.ly/3abpS3S.